Newark, DE Podiatrist
Advanced Foot and Ankle Center - Neuroscience & Surgery Institute of DE.
774 Christiana Road
Suite 105
Newark, DE 19713
(302) 355-0056
Middletown Office (COMING SOON - FALL OF 2021!)
Middletown Medical Center
210 Cleaver Farm Road
Building B, Suite 2
Middletown, DE 19709
(302) 355-0056
Wilmington Office
1415 Foulk Road
Suite #101
Foulkstone Plaza
Wilmington, DE 19803
(302) 355-0056
---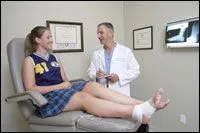 Mission Statement:
We are committed to developing an exceptional medical practice specializing in comprehensive foot and ankle care. In doing so, we maintain a very visible presence in the healthcare industry and our community. We strive to be cutting-edge in our office procedures, unsurpassed technologically, extraordinarily ethical in everything we do and, above all, a source of motivation to our patients during their treatment. Simply put, our goal is to consistently achieve excellence in all facets of patient care and practice management.
We offer patients unparalleled service in regard to scheduling, treatment, office protocols and third party billing. We are dedicated to providing cost efficient treatment targeted to each patient's particular needs and aimed at the permanent correction of foot and ankle ailments. We are extraordinarily focused on developing and maintaining relationships with our referring medical doctors. We believe this gives us a decided edge over our competitors.
Appointments:
We know you have many choices when choosing a Podiatrist in Newark , DE , so we have made requesting an appointment a simple process via our Web site. If, for any reason you cannot keep a scheduled appointment, or will be delayed, please call us as soon as possible.

Insurance
Our office accepts a variety of HMOs, PPOs, and other health plans. Please call our office to verify acceptance of your insurance carrier.

Our Office:
We believe our patients deserve to have the information needed to make good choices about their foot and ankle care. Our goal is to educate each patient and begin a relevant treatment program with the highest quality of care available. Whatever your foot and ankle trouble, we'll work together to find the answers that will comfort you and bring you relief.

We take pride in providing you with a comfortable office experience. Our qualified staff is friendly and will ensure a pleasant visit. Our offices are conveniently located in Newark, Middletown, Glasgow and Wilmington, DE . We invite you to call our office with any questions at (302) 355-0056..

Accepted Insurance Carriers:
Aetna HMO
Aetna PPO / Open Access
Amerihealth Caritas Health Options
BCBS of DE / HMO
BCBS of DE / PPO
Cigna HMO
Cigna PPO
Delaware Medicaid
Elder Health
Highmark Health Options
Keystone
MAMSI
Medicare
Optimum Choice
Personal Choice / Independent Blue Cross
Railroad Medicare
Tricare
United Health Care
Advanced Foot & Ankle Center also accepts:
Most Commercial Insurance Plans
Emergency Appointments:
Patients requiring emergency treatment will be seen the same day upon request, if possible.
On Call Coverage:
A Doctor of Podiatric Medicine is on duty 24 hours a day/7 days a week. A voice messaging system will page the Doctor on call directly.
Facilites and Equipment:
We provide extraordinary service and are committed to permanently correcting our patients' ailments, no matter how complex or simple they may be. We are precise in our diagnosis and definitive in our treatment. We believe this provides our patients with excellent value. We provide our services in an atmosphere that is friendly, professional and motivating. This makes our patients' treatment experience enjoyable. We actively inform our patients' medical doctors about their progress, thereby facilitating continuity of care and a true team-oriented treatment approach.
What To Expect:
We are dedicated to providing you with the most sophisticated podiatric care possible and ensuring that every aspect of your patient experience is positive. You can expect to be greeted by our office staff and treated courteously and professionally at all times. We also recognize that your time is valuable and we strive to see you within 15 minutes of a scheduled appointment.
Most importantly, we understand that you play vital role in the outcome of your treatment. We encourage you to ask questions about your care and give us feedback about how we might better serve you and the community.