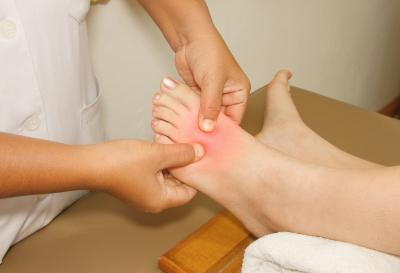 Once a day keeps the doctor away. That's what they say about eating apples, but it's true about daily diabetic foot inspections, too! When you have diabetes, you are more susceptible to foot problems, and if they're not caught early, those problems can turn into serious complications. You should visit your podiatrist on a regular basis, but we don't want you to endure unnecessary visits any more than you do! We'd rather help you live a full and active life. That's why Dr. Raymond A. DiPretoro Jr. recommends incorporating self-foot exams into your daily routine. That way, any problems you find can be addressed quickly, before they become serious and involve extended care. So grab your foot, a hand mirror, or even a friend, and let the inspections begin. Here's what to look for:
Discoloration - redness can be a sign of shoe irritation. Black or blue can mean blood flow problems or bruising.
Blisters - another sign that your shoes are rubbing you the wrong way. Cover it with a bandage to prevent it from breaking, and switch to more comfy shoes.
Breaks in the Skin - any abrasions can quickly become infected. Wash with mild soap, blot dry, and apply a dressing. Call your podiatrist at the first sign of redness, swelling or drainage.
Rash - peeling, itching skin can mean a fungal infection like athlete's foot. Seek treatment immediately.
Numbness - this is a sign of possible nerve damage. Be sure to notify your podiatrist.
Sores (Ulcers) - open sores are like open doors to dangerous infections. Seek help right away before it becomes severe.
Ingrown Toenails - again, this is an invitation for infection and should be treated by a podiatrist as soon as possible.
Knowing what to look for can make the difference between spending time doing the things you love and spending it in the hospital. So make a daily diabetic foot inspection a regular part of your life. Contact Advanced Foot and Ankle Center Inc. at (302) 355-0056 for more information, or stop by one of our convenient locations in Glasgow, Newark, and Wilmington, DE.
Photo Credit: Praisaeng via FreeDigitalPhotos.net