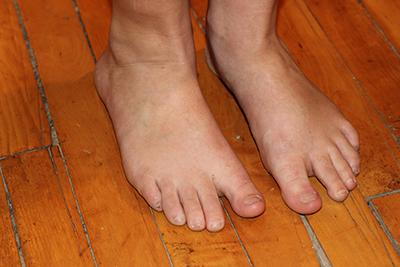 This week St. Hedwig Parish in Wilmington holds their 58th Polish Festival on the waterfront, with days of amusement rides and great Polish food and nights of free concerts and dancing. Nothing like a good polka to get your feet tingling! But what if that tingling isn't an itch to dance, but early neuropathy warning signs in your feet that you shouldn't ignore?
Do you even know what the early symptoms of neuropathy are? One is a feeling of pins and needles, or tingling and prickling, in your feet. Another is a burning sensation, first in your feet and legs, moving later to your hands and arms. You may also feel sharper, stabbing pains which may be worse at night.
Beyond this type of pain, peripheral neuropathy warning signs may include muscle weakness or paralysis, lack of coordination, or a higher chance of developing sores or infections in the foot. Automatic neuropathy affects areas such as bowel and bladder function, blood pressure regulation, heartbeat, and balance. With mononeuropathy, just specific nerves are affected, causing eye pain or focusing problems, for example, or foot problems.
You need to recognize these signs to catch them early, before the condition has a chance to progress and become serious. Outcomes are much better if treatment is started promptly. Be on the lookout, and as soon as you notice any of these symptoms, give Advanced Foot & Ankle Center a call at (302) 355-0056. With offices in Newark, Wilmington, and Glasgow, DE, we are nearby to offer help and evaluate the nerve function in your legs and feet and find the best treatments for any irregularities. You can also set up an appointment online through our contact page. We want to be sure you are in great shape to polka the night away at the festival!