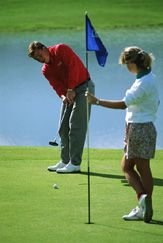 A large part of the attraction of golf is the time spent outdoors. During an 18-hole round of golf, the typical player walks four-to-five miles over the course of three-to-five hours. That's a lot of time spent on your feet. At the same time, the biomechanics of golf make your feet as important to the success of your swing as any other part of the body. Getting and keeping your feet in the right position to help carry the force of the swing through properly can be impacted by the shoes you wear.

Common foot injuries and problems associated with golf are related to overdoing it, particularly if an underlying structural problem exists in your feet. This includes tendonitis, capsulitis, and ligament sprains and pulls, which can keep a golf enthusiast off the green. Improper shoes can bring on blisters, neuromas, and other pain in the feet. Podiatrists see these problems daily and can treat them conservatively to allow for a quick return to the sport.

Golf Shoes
Remember that you'll spend a lot of time on your feet standing and walking during golf, so look for shoes that are comfortable. Golf shoes come in a variety of types, from the traditional oxford-style to sandals and even boots. Whichever style you choose, look for shoes that are lightweight, well-cushioned in the soles and heels, made from a breathable material, water resistant and offer traction. The middle of the shoe should feel a little tighter than your everyday shoes to support your swing. Be sure to try on golf shoes with the socks you will normally wear to make sure to get the right fit.

More serious golfers may be interested in purchasing spikes. Just give yourself time to adjust to walking wearing spikes and make sure you know the policy for wearing them on each golf course. Spikes give added traction and help stabilize the foot during play. Spikes are made from different materials. Soft, polyurethane spikes that are less damaging to the green and lightweight, but don't offer as much traction as a heavier material. Carbide or ceramic spikes are for serious golfers who spend a lot of time on the greens. They are made of durable materials that often outlast the shoe's upper. Metal spikes often last the life of the shoe, are very durable, give good traction but must be carefully maintained to prevent rust.